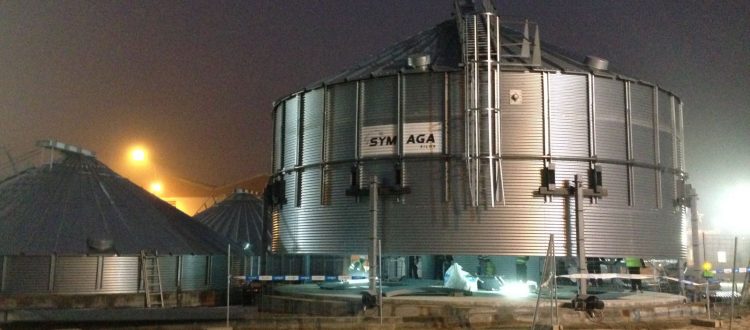 Symaga begins the installation of Malteria La Moravia Silos
Symaga begins the installation of our silos provided to Malteria La Moravia, a malting plant belonging to Grupo Damm, one of the main malting and brewing group in Spain, located in Bell Lloc d'Urgell.
Symaga incorporates new erection elements, facilitating the installation and optimizing times.
The project consists of six flat bottom silos, reinforced due to side lateral discharge, with a diameter of 12.98 meters, and almost 22 meters of height. Each silo has a capacity of 3,018 m³, so project will overcome 18,000 m³ capacity of total storage.
In addition to the  silos, made of galvanized Z600 steel, Symaga is installing several accessories such temperature control system, sweep augers, side lateral discharge system, aeration system and venting system (according to Atex norm), catwalks and supports. Furthermore, assembly service is being provided in order to a proper functioning for the purpose of meeting the needs of the customer requirements.
Symaga, investing to take care of your grain.